Emperor and Peacock Butterflies
My design was selected to be made for the new Emperor of Japan!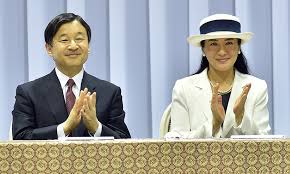 Prince Naruhito and Pricess Masako
Winning Design in Worldwide Competition
I am so honored! My Imperial fan design was selected to be made for the 2019 Enthronement of the new Japanese Emperor Crown Prince Naruhito.
Six designs were selected as winners from entries from artists all over the world. The winning artists are in New York, Israel, London, Tokyo and I'm the one from California.
I was looking for Japanese spiritual creatures to try and be unique and saw a Japanese Emperor Butterfly that was a beautiful purple and a sign of good spirits so then I looked for a 2nd Japanese butterfly and the Peacock butterfly had beautiful wings so that was my inspiration to honor the new Emperor and his beautiful wife.

Actual fans are made in Kyoto, Japan using the winners' design. and donated to Reiwa Emperor with the signature of His Highness Priest Shorei-in Monzeki Higashifushimi and a fan to be also donated to respective artist winner.