Interiors
Interiors will be exhibited at the California Institute for Integral Studies,
1453 Mission St., SF, CA

Source of Empowerment: Woman as Symbol
juried art exhibit
Sept. 15 - Oct. 31, 2003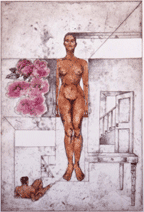 Interiors is a soft ground etching.
Artist Statement:
We often keep our inner thoughts and feelings locked up in drawers and behind doors and draw on them as we choose to. Interiors is about using our feminine sensibilities as a source of empowerment.
More of my figurative work, including stone lithographs and etchings, are on display in my Newark studio.