UNDER A CLOAK OF KLIMT
Under a Cloak of Klimt was inspired by a very poetic passage in the novel:. ART AND LIES
by my favorite author Jeanette Winterson.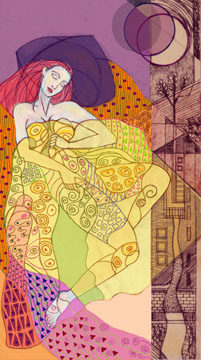 Under A Cloak of Klimt
13"x17" dry point engraving with digital embellishment (sold)
"Colours became her talismans. At the end of each black and white day. she dreamed in colour. At night, she soaked her body in magenta dyes, scrubbed herself with pumice of lime. The pillow was splashed in crimson by her black hair. She slept under a cloak of Klimt."

She Slept Under A Quilt of Klimt
24"x20" textile mixed media mounted on canvas (sold)
THE DANCER IN KLIMT'S GARDEN
I created this piece for my exhibit at the gorgeous Filoli Gardens, historic estate in Woodside, California. I was inspired by Klimt's painting, The Dancer, but wanted her in a beautiful garden filled with flowers as in his lovely llandscapes.

The Dancer In Klimt's Garden
18"x24" textile mixed media mounted on canvas (sold)
My inspiration is Gustav Klimt's, The Dancer (below):


Oil painting by Austrian artists, Gustav Klimt, completed just before he died in 1918 at the age of 55. It is in a private collection in New York.